Archive for the 'Guest columns' Category
I was a street kid from Chicago Illinois and had a great deal of respect for our neighborhood cop, Joe Sheldon. Little did I know that being an actor from Chicago would lead me into a life of police work. Here's how it all started.
I had just finished college and went to California to begin my career as an actor. I played a GI on a segment of TWILIGHT ZONE. It was the time of Brando, Clift and Dean and the studio method. I must have been a damned good GI as I got drafted a week later. After 8 weeks of basic training, we were all being assigned what our new school would be. Here come's the part about Chicago. What else would you make an actor/ entertainer? An MP…Yep Military Police. When I asked "WHY" I was told "Because you are from Chicago and you are either a good guy or a bad guy and either way we want you on our side" So after 8 weeks of police training I was assigned to Fort Benjamin Harrison Indiana and made up my mind to be the best MP the army had ever seen. While there I was the Post Soldier of the month and entered the All Army Talent try outs…Long story shortened…I was ,and I believe am still, The only MP to ever be a part of the ALL ARMY WORLD TOURING SHOW.
After getting Married and doing a lot of theatre in Chicago. Hollywood sent for me and I have been here ever since….Here is a list of the shows I have done where my Police training paid off…
8 Seasons as Sheriff Mort Metzger on Murder, She Wrote, The Law and Harry McGraw. The Stoneman, Cops n Roberts, Jessica Novack, Laserblast, Into the Glitter Palace, Barney Miller, McMillian and Wife, Good Times, Heat of Anger, Second Hundred Years, Bewitched, 10 different episodes of Police Story and I even played a singing dancing cop in a Nestles Crunch commercial with Kareem Abdul Jabbar. We shot that in downtown Los Angeles with 2 real cops on the set but the citizens would come up to me and ask directions.
Murder, She Wrote though is the role I will be identified with forever I guess for a day doesn't go by when someone doesn't yell out "Hey Sheriff, How's Jessica?" and you know what? I love it.
I couldn't wait to go to work with that great lady. Angela is the Rolls Royce of our business, and the last 2 seasons I got to write 2 story ideas that were bought. I was proud of that for I always felt we had the very best writers in the business and the most loyal following…including a couple of administrations in the White House, Now for those who care…Here is how I got the role. I had worked for Peter Fischer before, but the first time I went on location with him was when I played a detective on The Law and Harry McGraw.
We were in Massachusetts at a closed resort. A small staff was trying to feed breakfast to a film crew so I pitched in serving coffee, telling jokes and having a ball. A couple of months after we returned, Creator Peter Fisher called me and this is what he said on the phone " Ron? Peter Fischer…Tom Bosley is leaving the show to do a new series and I am creating a new sheriff. The role is yours if you want it but I have to know in the next 24 hours as I am leaving for Europe, so I have to know your answer before I leave." I responded "OK" He said "Then you will call and let me know?"…….I responded "I JUST DID"…..And as the late Paul Harvey used to say, "And now you know the rest of the story."
Microscopic Murder
What's so interesting about microbiology? Microorganisms were here before man walked the Earth, and they'll be here after we're gone. Actually, you would find it difficult to survive without them. Some bacteria, called commensals, live in and on our bodies to our benefit, protecting  us from invading pathogens (disease causing germs), and they produce vitamins.
On the opposite end of the spectrum are the bad bugs. They're responsible for more deaths than cancer, heart attacks, and war. They can disfigure, eat flesh, paralyze, or just make you feel so bad you wish you were dead.
There are four major types of microorganisms: bacteria, viruses, fungi, and parasites. They can cause damage directly, or they can release toxins that do the dirty work for them.
HIV virus
E.coli bacteria
Aspergillus (fungi)
Loa loa (parasite) in eye
So, how can your villains use microorganisms to kill? First they'll need a fundamental knowledge of microbiology, such as information that's taught in a basic college course. Next, the bad guy will need a source of bacteria. Microbiology labs all over the world contain bugs of all types.
Biological safety hood for the safe handling of bacteria
Most of these laboratories are locked, so a little B & E would be in order. Or, maybe your villain has a connection with a person who has control of the bug of interest. If so, the evil-doer could make what's known in the trade as a V.I.P. trip. He'd fly to the friend's lab, place the bug in a plastic vial, hide the vial in his pocket (V.I.P.), and get back on the plane for the trip home.
Once the potential killer has the bug, he has to keep it alive and reproducing. Bacteria are grown on agar plates (food for bugs) in an incubator. In general, bacteria double in number every 20 minutes. So, if you start with just a few bugs, let's say 10, and allow them to grow overnight…well, you do the math. Once the bad guy has enough of the bug, then it's time to deliver it to the intended victim.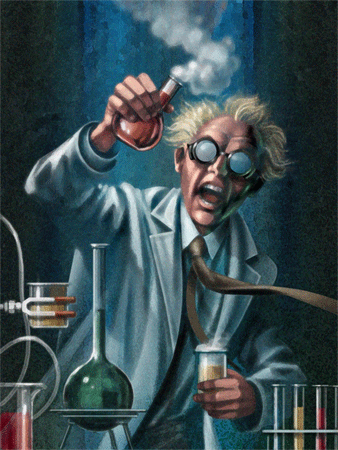 Picking up bacteria from agar plate. The brownish-red material is the agar. The grayish coloring at the top of the agar is E.coli bacteria.
Now for a true story. It wasn't murder, just an unfortunate accident that involved a woman, some green beans, and a home canning jar. Canning jars have lids designed to exhibit a slight indentation in their centers when food is fresh. If the indentation inverts (pops up), the vegetables may be contaminated, and should be discarded.
A woman was preparing dinner for her family and decided to serve some of her home-canned green beans that evening. She picked up a jar of beans, but thought the pop-up didn't look quite right. So, to satisfy her curiosity, she opened the jar, touched her finger to the bean juice, and tasted it. It tasted fine to her, so she cooked the beans and served the steaming hot dish to her family. The next day the woman died, but her family survived. The beans contained botulism toxin produced by the bacteria, Clostridium botulinum. C. botulinum lives naturally in the soil.
Botulism toxin is one of the most powerful neurotoxins known to man. About 10 ounces could kill everyone on Earth. It works by paralyzing its victim. Why didn't the other members of the family die? The toxin is inactivated by heat.
*     *     *
Dr. Denene Lofland received her PhD degree in pathology from the Medical College of Virginia, and she's a trained clinical microbiologist. She has served as the Director of Clinical Laboratory Sciences at Wright State University, and has worked in biotech/drug research and development for many years.
Denene worked on drug development programs for the U.S. government's Defense Advanced Research Project Agency (DARPA).  She contributed to the development and the FDA approvals of the drugs gemifloxacin (Factive), an antibiotic for the treatment of bacterial pneumonia, and Cayston, an inhaled antibiotic for cystic fibrosis. Both medications have been prescribed by physicians worldwide. She recently served as Manager of Operations for a company that conducts high-level research and development in areas such as anti-bioterrorism.
She also supervised several projects, including government-sponsored research which required her to maintain a secret security clearance.
Denene has published numerous articles in scientific journals and recently contributed to the thirteenth edition of Bailey and Scott's Diagnostic Microbiology. She currently serves as Associate Professor in the College of Osteopathic Medicine at Touro University.