Archive for the 'Friday's Heroes' Category
Today is Peace Officers Memorial Day. In honor of the 18,661 police officers who have been killed in the line of duty, our nation's flags will be flown at half-staff.
In 2008, 133 officers lost their lives while protecting the citizens of their communities.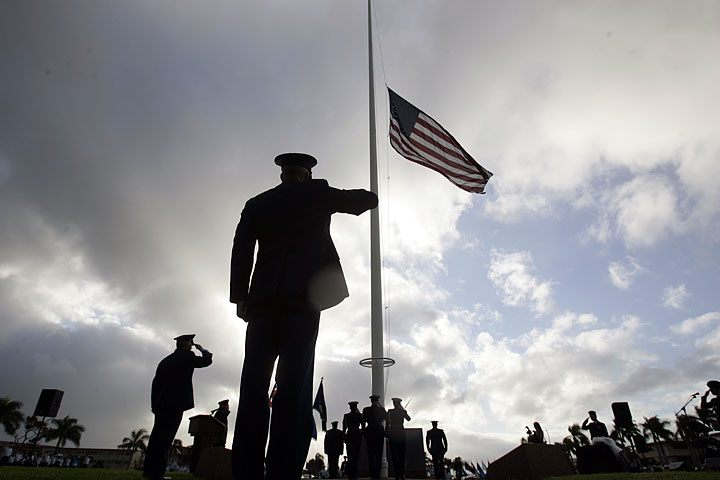 Detective Justin Mullis, 48
French Lick Police Department
French Lick, Indiana
On April 29, 2009, Detective Justin Mullis was killed in an accident when he lost control of motorcycle.
Juvenile Corrections Officer William Hesson, 39
Ohio Department of Youth Services
Officer Willam Hesson died on April 29, 2009 from injuries he'd sustained during an altercation with a juvenile inmate. Officer Hesson is survived by his expectant wife, two daughters, an son.
Detective Robert Eugene Beane, 34

Beauregard Parrish Louisiana Sheriff's Office
Detective Robert Parrish was killed in an automobile accident on May 5, 2009. The detective was on his way to a training exercise when a tractor trailer pulled out in front of his car causing the fatal collision. He leaves behind his wife and daughter.
Border Patrol Agent Intern Nathaniel A. Afolayan, 29
U.S. Department of Homeland Security – Customs and Border Protection – Border Patrol
Agent Nathaniel Afolayan passed away on May 1, 2009. He had collapsed the day before after completing the running portion of the physical techniques portion of the training academy exam. He had only been with the agency for 10 weeks. Agent Afolayan is survived by his wife, two daughters, his parents, and three siblings.
Officer James Manor, 28
Las Vegas Nevada Metropolitan Police Department
Officer James Manor was killed on May 7, 2009, when a drunk driver turned in front of his patrol car causing a head-on collision. Officer Manor had been enroute to a domestic violence call. He is survived by his wife and daughter.
*     *     *
The 28th Annual National Peace Officers' Memorial Service begins at 12:00 noon today on the West Front of the United States Capitol in Washington, D.C. The service is expected to run approximately 2 hours
Sponsored by the Grand Lodge Fraternal Order of Police and the Grand Lodge Fraternal Order of Police Auxiliary.
The Wreath Laying Ceremony will be held immediately following the Memorial Service at the National Law Enforcement Officers Memorial, located in the 400 block of E Street, NW.
*Thanks to ODMP.
Officer Dexter Hammond, 38
Headland Alabama Police Department
Officer Dexter Hammond was shot and killed on April 24, 2009, when he responded to an officer down call. He had arrived at the scene to assist a deputy sheriff when the suspect opened fire with a rifle. Officer Hammond leaves behind a wife and a son.
Deputy Sheriff Burton (Burt) Lopez, 44
Deputy Sheriff Warren (Skip) York, 44
Okaloosa County Florida Sheriff's Office
Deputies Burt Lopez and Skip York had responded to domestic call earlier in the evening on April 25, 2009, and as a follow up to the case they found the suspect at a local gun club. The suspect became so uncooperative and violent the deputies had to deploy a Taser on him. When the electricity cycle ended the man pulled a gun and fired at the officers. During a brief gun battle, both deputies were shot and killed. The suspect was later killed in a second shootout with deputies from a neighboring county.
Deputy Lopez is survived by his wife and children.
Deputy York is survived by his wife and children.
Deputy Sheriff Brandon Scott Coker, 27
Vance County North Carolina Sheriff's Office
Deputy Brandon Coker was killed in an automobile accident on April 25, 2009, while attempting to stop a reckless driver. Deputy Coker leaves behind his wife, parents, and four brothers.
Deputy Sheriff D. Robert Harvey
Lubbock County Texas Sheriff's Department
On April 26, 2009, Deputy Robert Harvey was killed in an automobile accident while responding to a fight in progress call. A driver made a left turn in front of the officer, which caused the deadly head on collision. Deputy Harvey leaves behind a wife and children.
* Thanks to ODMP
Officer Terry Adams, 38
Tifton Georgia Police Department
On April 22, 2009, Officer Terry Adams was answering an emergency call on his motorcycle when he was struck head on by a pickup truck. Officer Adams passed away during transport to the hospital. He leaves behind a wife and four children.
* Thanks to ODMP
Trooper Mike Haynes, 28
Montana Highway Patrol
On March 27, 2009, Trooper Mike Haynes succumbed to injuries he received on March 23, 2009, when his patrol car was hit head on by a drunk driver.
Trooper Haynes is survived by his wife and two small children.
Sergeant Randy White, 32
Bridgeport Texas Police Department
Sergeant Randy White was killed on April 2, 2009, when his patrol car was struck in the rear by a criminal suspect who was attempting to elude other police officers.
Sergeant White leaves behind a wife and a five-year-old daughter.
Pittsburgh Police Department
Officers Eric Kelly, Paul Sciullo, and Stephen Mayhle were each killed by gunfire on April 4, 2009. The officers were responding to a domestic dispute when they were ambushed by the shooter.
Officer Kelly leaves behind his wife and daughter.
Officer Mayle leaves behind a wife and two daughters.
Detective Allen Pearson, 29
Lenoir County North Carolina sheriffs Deparment
Detective Allen Pearson was shot and killed on April 7, 2009, while attempting to apprehend a criminal suspect.
Detective Pearson is survived by his wife.
Deputy Sheriff Richard J. Stiles, Jr., 37
East Feliciana Louisiana Parrish Police Department
On April 7, 2009, Deputy Richard Stiles succumbed to injuries he received in a head on collision on April 3, 2009.
*Thanks to ODMP
*        *        *
The following was submitted by Lt. David Swords, one of the police experts here on The Graveyard Shift.
As most are painfully aware, Philadelphia Police Officer John Pawlowski fell in the line of duty on February 13, 2009. He was killed by gunfire after responding to a disturbance cal.
The night John was murdered; he was designated as "359" for the purposes of radio dispatching. It was as Unit 359 that he and his partner were dispatched to the disturbance call that ultimately ended in John's death.
The "35" represents the 35th Police District of Philadelphia.
The Last Call is a Law Enforcement tradition, and is conducted during the funeral ceremony. You will hear the dispatcher attempt to contact the fallen officer via the police radio. Hearing no response, they will report to the police supervisor that they are unable to reach him. Police command will ask that the time be marked, and that the badge number of the fallen officer be removed from service for the last time.
The attached audio file is from the funeral of Police Officer John Pawlowski. The dispatcher marks the time of Friday February 13, 2009 at 8:44pm, which is the moment John gave his life in service to the people of Philadelphia and to the citizens of the Commonwealth of Pennsylvania.
http://blog.hanrahanconsulting.us/files/105405-98178/Pawlowski.mp3
Corrections Officer Mark Parker, 44
Orange County Florida Sheriffs Office
Officer Mark Parker died on March 19, 2009, from gunshot wounds sustained on January 10, 1984. On that day, a suspect entered a courthouse with the intention of shooting the police officer who'd issued him a traffic citation. The shooter eventually killed two police officers, fired at the judge, and exchanged gunfire with another deputy.  Officer Parker was unarmed, but used his body to shield innocent civilians. He was 19 when he received the bullet wounds that left him paralyzed and under round the clock care for the remainder of his life.
The suspect was convicted of murdering the officers. He was executed for his crimes in 2000. Officer Parker attended the execution.
Sergeant Mark Dunakin, 40
Officer John Hege, 41

Sergeant Daniel Sakai, 35
Sergeant Ervin Romans, 43
Oakland California Police Department
Sergeant Mark Dunakin, Officer John Hege, Sergeant Daniel Sakai, and Sergeant Ervin Romans were all shot to death by a suspect, a parolee, who had an extremely violent history. The suspect was also wanted for a parole violation at the time of the shootings. SWAT members eventually terminated the threat by killing the suspect.
*Thanks to ODMP