Oh! Liberty, how lovely are thy charms,
Thus to call forth embattling bands to arms!
T' avenge his country's wrongs, her rights to save,
To win a glorious garland, or a grave;
To rend the chains of cheerless slavery,
To give unborn millions liberty;
To dash the sceptre from the despot's hand,
Heroes have nobly bled, and patriots plann'd…
Oh! War, what horrors follow in thy train,
What scenes of grief, of dark despair and pain?
Methinks I see the dying and the dead,
Adown this hill, upon their grassy bed;
I hear the cry of wounded men, in vain,
Calling on wives and children, o'er the main;
Calling on wives and children, they no more
Shall see on life's now fast receding shore;
I see forms of those who died, that we
Might live and long enjoy liberty…
Dr. John Lofland, The Milford Bard
Oregon has some of the most breathtaking scenery in the country, and I'm awestruck each time I visit. So I was really pleased when Mary Quinlisk offered to send us some photos of the Oregon coast. Looking at these sort makes me homesick for the top left corner of the country and all our friends we left behind when we migrated east. I hope everyone enjoys the photos as much as I have. Thanks again, Mary!
* We'd love it if you'd like to share photos of your own weekend road trips with us. If so, please contact me at lee@leelofland.com.
* Don't forget to stop by our Facebook page to see a photo of the author of the day!
The Graveyard Shift extends our condolences to the families of each of these brave officers.
Officer Thomas E. Wortham IV, 30

Chicago Police Department
May 19, 2010 – Officer Thomas E. Wortham IV was shot and killed outside his parent's home when three men approached him and attempted to steal his motorcycle. Wortham promptly announced that he was a police officer and drew his service weapon. One of the men shot the officer in the head but the officer managed to return fire. Wortham's father, a retired police sergeant, also returned fire, killing one of the suspects and wounded another. Officer Wortham died at the hospital. He had recently returned from his second tour of duty in Iraq.
Paris McGee and Toyious Taylor have been charged with the murder of Officer Thomas Wortham.
Border Patrol Agent Mark Van Doren, 40

United States Department of Homeland Security – Customs and Border Protection
Brooks County, Texas
May 23, 2010 – Agent Mark Van Doren was killed and his partner critically injured when their patrol car struck a bovine bull and then veered off the road and struck a tree. Agent Van Doren died at the scene. His partner was flown to the hospital via helicopter.
Officer Travis P. Murphy, 29
Phoenix Arizona Police Department
May 26, 2010 – Officer Travis Murphy was responding to a shots-fired call when he encountered the suspect who immediately opened fire. Officer Murphy's fellow officers took him to the hospital where he died. The suspect, Danny Martinez, was later located hiding in a shed. Officers fired rubber bullets to subdue him.
Officer Murphy is survived by his wife, two year-old daughter, and a two-week-old son.
Officer Murphy's sister-in-law, brother-in-law, and firefighter cousin.
Accused cop killer Danny Martinez is escorted to jail by Phoenix officers.
Suspected cop killer Danny Martinez.
*Thanbks to ODMP. Azcentral photos.
A few days ago we learned the horrific news that father and son had shot and killed two police officers. The two cop killers, Jerry Kane and son Joseph, were later killed by police in a second shootout where the pair of murders had wounded a local sheriff and his chief deputy.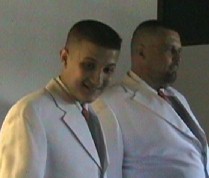 Joseph and Jerry Kane
Sheriff Gene Kelly of Clarke County, Ohio (I spent a few days with Sheriff Kelly and members of his department while researching a book) says he'd warned his deputies to use caution if they ever had to deal with the elder Kane.
Sheriff Kelly also said, "I had my first confrontation with him (Jerry Kane) when he tried to come to a foreclosure sale and write me a check on a piece of paper indicating that he was a free man and he only believed in silver and gold and that he didn't believe in banks,"
Sheriff Kelly continued with, "He (Kane) believed that would enslave him and he was demanding $100,000 in silver and gold," Kelly said. "This man has been having confrontations with authorities for years. And finally, the ultimate result is, law enforcement officers paid the ultimate price for that." (source TV10News)
It's now believed that Kane's son, Joseph, may have fired the first shots.
Sadly, according to one of Jerry Kane's closest friends, William Ligiu Ionescu, this cop-killing incident is only the beginning. Ionescu told reporters from myEyewitnessNews.com that more cop killings are on the way, but not in that department. He went on to say that carrying a gun is a right for Americans, but not for police officers. For them it's a privilege, and they're not properly trained to deal with law-abiding citizens like Jerry Kane. Ionescu also stated that Jerry Kane knew more about being a police officer than police officers do.
Well, if that portion of the story isn't weird enough, there's more.
Jerry Kane's daughter, Heather Michelle Kane, has just been sentenced to 13 years in prison for attempted murder and first degree kidnapping. In 2007, Heather Kane hired someone to kill her former boyfriend's female roommate. As it turns out, the person she hired was an undercover detective. Kane had offered $1,000—$500 up front with the balance to paid after the victim was shot in the head. She'd asked the potential "killer" to bring a photograph of the dead woman as proof of the murder.
Heather Kane learned of her boyfriend's roommate from his MySpace page.
Source – www.springfieldnewssun.com
You know, I've always heard that apples really don't fall far from the tree…
Apples don't fall far from the tree
Hey, honey come sit on my knee
Apples don't fall far from the tree
And I remember Mama's tears
When they said in a few years
I'd be something to see – Cher
Thanks to Lt. Dave Swords for today's topic idea and information. Remember, he'd once arrested Jerry Kane.
* Don't forget to check out our new Facebook page!
Suppressors are often associated with gangster-type hit men, especially in television and film, and in books. However, these sound-suppressing devices have other, more legitimate, purposes, such as protecting a shooter's hearing (hunters and target shooters), and increasing the accuracy of the shot.
Accuracy is enhanced when using a suppressor due to the reduction in recoil that's normally caused by escaping gases. A suppressor quite effectively strips away most of those gases as they exit the weapon after a round has been discharged. It's the suppression of those gases that also reduces the sound of gunfire, much like what a muffler does on an automobile.
The military uses suppressors to confuse the enemy by deceiving the location of the shooter. However, there are devices available that can pinpoint those locations even when a suppressor is used.
Suppressors are often called silencers by laypeople, however, the term silencer is not an accurate one. The explosion caused when a bullet is fired cannot be totally silenced, so suppressor is a much more appropriate term. Actually, many shooters call the devices a "can."
A "silenced" weapon has a unique sound, especially an automatic weapon. The clacking and clanging of the metal parts are pretty much all that's heard by bystanders.
Uzi .45 with suppressor
Here's a shooter firing a .22 AR-15 with a suppressor attached. There's no sound other than the mechanical parts of the weapon.
Suppressors are normally attached to the barrel of a weapon by threading the barrel (male end) and then screwing the suppressor (female end) to it.
Weapons with threaded barrels (male threads).
Threaded suppressor (female threads).
Weapon with suppressor attached.
Brief History of Suppressor Use
1909 – Suppressors first introduced in the U.S.
1910 – Black Jack Pershing used rifles equipped with suppressors when attempting to capture Poncho Villa.
WWII – A suppressor-equipped High Standard .22 was developed for operatives of the Office of Strategic Services.
The German army equipped their 9mm lugers, Mauser sniper rifles, and Walther P-38's with suppressors.
Machine guns, including the Thompson, were equipped with suppressors.
1998 –  U.S. Special Operations Command began equipping the M-4A1's with quick detach flash/noise suppressors.
Citizens may legally own and use suppressors in many areas of the U.S. However, it is illegal to do so in certain areas.
There's an old joke that's been circulating among male shooters for years. It's the top ten reasons why men prefer guns over women. Remember, I'm just the messenger. Please don't shoot!
#10. You can trade an old 44 for a new 22.
#9. You can keep one gun at home and have another for when you're on the road.
#8. If you admire a friend's gun and tell him so, he will probably let you try it out a few times.
#7. Your primary gun doesn't mind if you keep another gun for a backup.
#6. Your gun will stay with you even if you run out of ammo.
#5. A gun doesn't take up a lot of closet space.
#4. Guns function normally every day of the month.
#3. A gun doesn't ask , "Do these new grips make me look fat?"
#2. A gun doesn't mind if you go to sleep after you use it.
And the number one reason a gun is favored over a woman….
#1. YOU CAN BUY A SILENCER FOR A GUN
Integral suppressor
Our friend Paul Beecroft, a coroner's investigator in England, has taken us on some fascinating journeys in the past. Today he's invited us to join him for a sneak peek at one of his favorite places in the English countryside, a farm in the Village of Hurst in Berkshire. This is the place where Paul can free his mind of a week of dealing with criminals, grief, and from seeing dead people. It is here, on this farm, where Paul walks his dog, flies his falcon, and leaves murder investigations to someone else, even if it's only for a short time. Thank you, Paul, for sharing this portion of your life.
Golden Lace Orpington Cockerel
Piglet
Loddon Lily Leucojum aestivum Sometimes known as the Summer Snowflake. Named after the River Loddon. A fairly rare plant. This is the only one on the whole of the Farm.
Dog Rose Rosa cania
'Dax' My black Labrador having a swim
Dax the Hurdler
Farmyard geese
Spring Lambs with Mum who has just been sheared
Tadpoles. The black mass is 100's if not 1000's of Tadpoles
English Oak
Another pond
Public footpath
Paul Beecroft, an avid falconer, has spent a good deal of his life in law enforcement, in England. He's worked Foot Patrol, Area Car, Instant Response Car and also as a Police Motorcyclist. He's currently a coroner's investigator and has traveled all over England, Wales, Scotland and even Germany to investigate crimes.