Computer Forensics and Child Exploitation – From the Case Files of the Southern Oregon High-Tech Crimes Task Force
Occasionally I will write about a case that I have investigated within our task force to provide some real life examples of how technology is used to commit crimes in our society.
In late 2005 the Southern Oregon High-Tech Crimes Task Force received information from the National Center for Missing and Exploited Children (NCMEC) about a male in Central Point, Oregon who was in possession of child pornography. A screen name was provided with the report from NCMEC and by serving subpoenas to Internet Service Providers (ISP's) I was able to determine the suspect's true identity was that of a man named Mark Doty. Just after receiving this information, a completely different informant provided me with information about a man named Mark Doty in Central Point who was engaging in sexual intercourse with young boys at his home.
Between the two reports and other information gathered during our investigation enough probable cause was established to apply for a search warrant for Doty's home and computer. During the spring of 2006 I wrote a search warrant and took it to a judge for review. The judge agreed that enough probable cause existed and granted the warrant.
Members of my task force as well as federal law enforcement agents executed the search warrant at Mr. Doty's residence. When we served the warrant Doty was at home and I interviewed him about our investigation while other agents searched his home and seized evidence.
Several items of evidence were transported to our digital evidence forensics laboratory and over the next several months they were all analyzed. At the conclusion of the forensic examination evidence was found that Doty was possessing images depicting children involved in sexual abuse. It was also found that Doty was using Yahoo! Messenger to find young boys and compel them to perform sexual acts in front of a web camera. He did this by portraying himself to be a Police Officer and threatening police action against these boys if they did not do what he asked. Unfortunately, this tactic worked and several young boys did perform various sex acts for Doty.
On September 12th 2006 I arrested Doty on several felony charges for child pornography. In February of 2007 Mark Doty took his case to trial and was convicted on fourteen felony counts of Encouraging Child Sexual Abuse and was sentenced to prison.
Mark Doty
Chris Grabenstein did improvisational comedy (with Bruce Willis) in New York before James Patterson hired him at the J. Walter Thompson advertising agency.
His Anthony Award-winning debut TILT A WHIRL (A John Ceepak mystery) was followed by MAD MOUSE, WHACK A MOLE and the just released HELL HOLE from St. Martin's Minotaur.
Chris has also written two thrillers: SLAY RIDE and HELL FOR THE HOLIDAYS.
His "rip-roaring" Middle Grades ghost story THE CROSSROADS was published my Random House earlier this summer.
Fire Forensics
"Suppose I wanted to set a fire that would kill somebody trapped inside an abandoned amusement park ride," I asked the fire captain. "What'd be the best way to do that?"
Chris and FDNY Captain Dave Morkal
Fortunately, the captain I was asking was Dave Morkal of the FDNY, one of my closest friends and a big inspiration for the character of John Ceepak. He was also my "fire forensics" technical adviser on HELL HOLE, my newest John Ceepak mystery.
When I was working on HELL HOLE, the fourth novel in the series, which was just published by St. Martin's Minotaur, I thought it would be exciting to include a dramatic fire rescue scene.
When my wife and I do research (a.k.a "go on vacation") down the Jersey Shore, we often spend time with Captain Morkal and his family. That means we also get to meet some of the other firefighters taking the same vacation weeks in the town of Beach Haven on New Jersey's Long Beach Island or, as everybody calls it, LBI. (Yes, Beach Haven is the main inspiration for my fictional Sea Haven).
As it turns out, hundreds of New York firefighters head to LBI for a couple weeks every summer.
Good thing, too!
Danny and Ceepak need them.
In HELL HOLE, some extremely nasty characters want to "eliminate" my dynamic duo from their investigation of what everyone else assumes was a open and shut case of suicide. Ceepak and Danny beg to differ. They think it was murder.
In our discussions of arson, Captain Morkal told me about a very deadly trick: Firebugs ignite a roaring blaze high up in a structure with gasoline while simultaneously igniting a diesel fuel fire down below. The gas fire burns fast and gets everybody's attention. The diesel starts slower but burns hotter. The fire department rushes in to extinguish the gas fire, the one everybody can see. While they're upstairs fighting that fire, the diesel-fueled blaze down below kicks in and cuts off their exit, trapping the guys up high with no way out or back down.
So that's what I had my bad guys did.
Fortunately, Captain Morkal also told me how skilled firefighters would attack the fire and how they would make sure they and those they rescued were able to get back out.
In the book, John Ceepak goes into the abandoned ride known as the Hell Hole when he hears a woman screaming for help and shouting "Fire!"
(The Hell Hole, by the way, is a ride very similar to the Rotor or Gravitron where the room spins around and around until centrifugal force glues you to the wall like a sock in the spin cycle. Then they drop the floor out from under your feet.)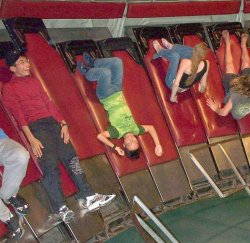 Ceepak sends Danny off to call 9-1-1 because their cell phones were destroyed earlier in the day.
Fortunately, on his way to find a pay phone on the boardwalk, Danny encounters three vacationing members of the FDNY who immediately spring into action and improvise an ingenious firefighting solution.
Thanks to Captain Morkal's expert advice on how to stage the rescue, the scene crackles with excitement.
I find talking with experts and learning how they really do their job to be one of the most fascinating and fun aspects of being an author. It also helps you get things right. And when you do that, the reader can truly get lost in your world.
If you don't get the details right, you might frustrate your readers and have a wall banger on your hands.
What's a wall banger?
That's a book that gets thrown against the wall.
Please take a moment to visit Chris at www.chrisgrabenstein.com
Homicide investigations are the crème de la crème of all investigations. To solve a murder, investigators use all available resources. No-holds barred. No sparing of the horses. No waiting for the obese lady to start her song. Sometimes, it's a race to catch the killer before he strikes again. But detectives must still use caution and care when evaluating and examining all evidence, including the crime scene.
To maintain order, and to prevent disaster in court, detectives and other crime-scene investigators follow a mental checklist of things to do at a murder scene. Some use an actual written guideline. The list is actually a series of common sense questions that need to be answered before moving to the next stage of the investigation.
Investigators should always determine what, if anything, has changed since the first responders arrived. Did the officers turn lights on or off? Did they move the body to check for signs of life? Did anyone else enter or leave the scene? Did the patrol guys open or close windows and doors? Did they walk through blood or other body fluids?
Crime-scene searches must be methodical and quite thorough. Every single surface, nook, and cranny must be examined for evidence, including ceilings, walls, doors, light switches, thermostats, door knobs, etc. Not only are they searching for clues and evidence, they're looking for things that aren't there, such as a missing knife, jewelry, or even the family car. Did the suspect take anything that could be traced back to the victim? Where would the killer take the items? To a pawn shop? Home? Toss them in a nearby dumpster?
Investigators must determine if the body has been moved by the suspect. Are there drag marks? Smeared body fluids? Transfer prints? Is there any blood in other areas of the scene? Is fixed lividity on the wrong side of the body, indicating that it had been moved after death?
Does the victim exhibit signs of a struggle? Are there defensive wounds present on the palms of the hands and forearms?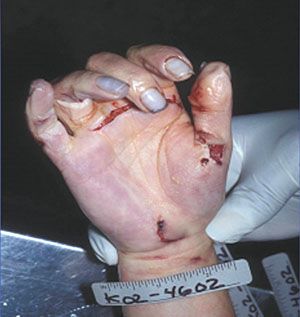 Is there significant blood spatter? Is there high-velocity spatter? Did flies cause false spatter? What is the point of impact? Where was the shooter standing when he delivered the fatal blow, or shot?
Once the detective is satisfied that all the checklist questions have been answered she can then move on to the next phase of the murder investigation, collecting physical evidence.
Bounty Hunting in Hawaii
I know that all of you out there are wondering how Dog the Bounty Hunter is able to do his job. So, I did a bit of research on Bounty Hunting laws in Hawaii.
Apparently there are very few restrictions for the great state of Hawaii. There are lobbyists trying to get the legislature to make hunting laws more restrictive. Of course Dog is fighting that.
They can have a felony record, there appears to be no age restriction or any of the other laws on the books in the other 49 states. The way that Hawaii gets by with the hiring of felons in the bonding business is this:
There is a term called "respondeat superior" a key doctrine in the law of agency, which provides that a principal (employer) is responsible for the actions of his agent (employee) in the "course of employment" and this includes the typical independent contractor relationship which most recovery agents have with the client.
Thus, if a bounty hunter causes a liability, the bonding company for which the hunter works will be liable for the injuries as well. When it comes to light in court that the bondsman hired a felon, a jury will crucify everyone involved. It has happened on several occasions in the past.
If anything happens on Dog's watch his wife Beth will be held liable.
There is a bill being discussed in the legislature would require that a person apply for a hunters license to be at least 21 years old, pass a state examination, have no felony or aggravated misdemeanor arrest record, have no conviction where a dangerous weapon was used and to also submit to a fingerprint and background check.
Duane (Dog) Chapman is fighting this bill. His contention is that even though he has a felony record, he has been on the right side of the law for over 20 years. He has received a pardon. He feels that his record should not prevent him from this line of work and he cites his 7,000 plus recovery record as his grounds. However, he has also stated he would be willing to help draft a bill which would give some restrictions because the current bill as it stands has to many restrictions
According to current state laws, "career criminals" are allowed to break down doors searching for their jumper. This statement was made in the bill which was introduced. But he agrees that before a hunter breaks down a door to a residence he must first have the suspect in sight.
Dog the Bounty Hunter also agreed that Hawaii needed to follow the example of the other states which requires training and identification for their hunters. But he said the law should bar a bonding agent or a hunter from carrying a firearm.
Duane Chapman uses the fact that he does not carry a firearm; he carries and uses mace which in his mind is a better weapon. He contends that if one needs to use a bullet one should call a cop.
Now in theory that is a wonderful idea. However, if a cop is on the scene and they are involved, then the hunter loses his bounty. If the jumper is placed in a squad car and carted off then hunter cannot collect his money.
I don't know about the rest of you, but if I have to get close enough to spray mace then, I am opening myself up to a lot of potential problems.
If Duane Chapman lived in any of the other forty nine states he would not only not be allowed to carry a weapon, he could not even have one in his home. He could not become a licensed hunter.
Now the strange part of this is that a Bail Bondsman has to meet certain requirements before he can become a bonding agent. He has to be at least 18, not committed any act that is a ground for a licensure sanction, pay the applicable fees, pass a written test within two years of the license for which he has applied.
So the question begs to be asked, if the State of Hawaii has absolutely no restrictions on Hunters, what keeps just any one from trying to make a fast buck? What would keep even more convicted felons from applying at the local bondsman for a job? Or even just free lancing. The answer is nothing.
In order for me to be able to hunt I was checked out by every law enforcement agency out there. My fingerprints are on file with every agency as well.
I am required to carry a concealed weapons permit. And I have to obey the laws of the land in regard to the civil rights of my jumper and those whom I come in contact with.
I believe that some convicted felons can turn their life around and be productive. I have some reservations about felons chasing other felons.
Deputy Sheriff Anthony Forgione, 33
Okaloosa County Florida Sheriffs Office
Deputy Forgione was shot and killed by a suspect who had escaped custody during a mental health evaluation.
Forgione leaves behind a wife and two young daughters.
Officer Andrew Widman, 30
Fort Myers Florida Police Department
Officer Widman was shot and killed while attempting to quell a domestic disturbance.
He leaves behind a wife and three children.