Computer Forensics and Child Exploitation – From the Case Files of the Southern Oregon High-Tech Crimes Task Force
Occasionally I will write about a case that I have investigated within our task force to provide some real life examples of how technology is used to commit crimes in our society.
In late 2005 the Southern Oregon High-Tech Crimes Task Force received information from the National Center for Missing and Exploited Children (NCMEC) about a male in Central Point, Oregon who was in possession of child pornography. A screen name was provided with the report from NCMEC and by serving subpoenas to Internet Service Providers (ISP's) I was able to determine the suspect's true identity was that of a man named Mark Doty. Just after receiving this information, a completely different informant provided me with information about a man named Mark Doty in Central Point who was engaging in sexual intercourse with young boys at his home.
Between the two reports and other information gathered during our investigation enough probable cause was established to apply for a search warrant for Doty's home and computer. During the spring of 2006 I wrote a search warrant and took it to a judge for review. The judge agreed that enough probable cause existed and granted the warrant.
Members of my task force as well as federal law enforcement agents executed the search warrant at Mr. Doty's residence. When we served the warrant Doty was at home and I interviewed him about our investigation while other agents searched his home and seized evidence.
Several items of evidence were transported to our digital evidence forensics laboratory and over the next several months they were all analyzed. At the conclusion of the forensic examination evidence was found that Doty was possessing images depicting children involved in sexual abuse. It was also found that Doty was using Yahoo! Messenger to find young boys and compel them to perform sexual acts in front of a web camera. He did this by portraying himself to be a Police Officer and threatening police action against these boys if they did not do what he asked. Unfortunately, this tactic worked and several young boys did perform various sex acts for Doty.
On September 12th 2006 I arrested Doty on several felony charges for child pornography. In February of 2007 Mark Doty took his case to trial and was convicted on fourteen felony counts of Encouraging Child Sexual Abuse and was sentenced to prison.
Mark Doty
Chris Grabenstein did improvisational comedy (with Bruce Willis) in New York before James Patterson hired him at the J. Walter Thompson advertising agency.
His Anthony Award-winning debut TILT A WHIRL (A John Ceepak mystery) was followed by MAD MOUSE, WHACK A MOLE and the just released HELL HOLE from St. Martin's Minotaur.
Chris has also written two thrillers: SLAY RIDE and HELL FOR THE HOLIDAYS.
His "rip-roaring" Middle Grades ghost story THE CROSSROADS was published my Random House earlier this summer.
Fire Forensics
"Suppose I wanted to set a fire that would kill somebody trapped inside an abandoned amusement park ride," I asked the fire captain. "What'd be the best way to do that?"
Chris and FDNY Captain Dave Morkal
Fortunately, the captain I was asking was Dave Morkal of the FDNY, one of my closest friends and a big inspiration for the character of John Ceepak. He was also my "fire forensics" technical adviser on HELL HOLE, my newest John Ceepak mystery.
When I was working on HELL HOLE, the fourth novel in the series, which was just published by St. Martin's Minotaur, I thought it would be exciting to include a dramatic fire rescue scene.
When my wife and I do research (a.k.a "go on vacation") down the Jersey Shore, we often spend time with Captain Morkal and his family. That means we also get to meet some of the other firefighters taking the same vacation weeks in the town of Beach Haven on New Jersey's Long Beach Island or, as everybody calls it, LBI. (Yes, Beach Haven is the main inspiration for my fictional Sea Haven).
As it turns out, hundreds of New York firefighters head to LBI for a couple weeks every summer.
Good thing, too!
Danny and Ceepak need them.
In HELL HOLE, some extremely nasty characters want to "eliminate" my dynamic duo from their investigation of what everyone else assumes was a open and shut case of suicide. Ceepak and Danny beg to differ. They think it was murder.
In our discussions of arson, Captain Morkal told me about a very deadly trick: Firebugs ignite a roaring blaze high up in a structure with gasoline while simultaneously igniting a diesel fuel fire down below. The gas fire burns fast and gets everybody's attention. The diesel starts slower but burns hotter. The fire department rushes in to extinguish the gas fire, the one everybody can see. While they're upstairs fighting that fire, the diesel-fueled blaze down below kicks in and cuts off their exit, trapping the guys up high with no way out or back down.
So that's what I had my bad guys did.
Fortunately, Captain Morkal also told me how skilled firefighters would attack the fire and how they would make sure they and those they rescued were able to get back out.
In the book, John Ceepak goes into the abandoned ride known as the Hell Hole when he hears a woman screaming for help and shouting "Fire!"
(The Hell Hole, by the way, is a ride very similar to the Rotor or Gravitron where the room spins around and around until centrifugal force glues you to the wall like a sock in the spin cycle. Then they drop the floor out from under your feet.)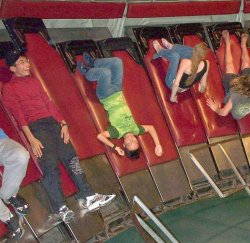 Ceepak sends Danny off to call 9-1-1 because their cell phones were destroyed earlier in the day.
Fortunately, on his way to find a pay phone on the boardwalk, Danny encounters three vacationing members of the FDNY who immediately spring into action and improvise an ingenious firefighting solution.
Thanks to Captain Morkal's expert advice on how to stage the rescue, the scene crackles with excitement.
I find talking with experts and learning how they really do their job to be one of the most fascinating and fun aspects of being an author. It also helps you get things right. And when you do that, the reader can truly get lost in your world.
If you don't get the details right, you might frustrate your readers and have a wall banger on your hands.
What's a wall banger?
That's a book that gets thrown against the wall.
Please take a moment to visit Chris at www.chrisgrabenstein.com