Bounty Hunting in the State of Georgia
Okay everyone who has been waiting and biting their fingernails. Now is the time to get down to the nitty gritty of Bounty Hunting.
Since I am from the beautiful state of Georgia and since that is where I got my degree and started my path of finding those who don't wish to be found, I will start there.
The term used in Georgia for Bounty Hunters is "Bail Recovery Agents". This title suggests that the person who performs services or takes action for the purpose of apprehending the principal (the jumper) on a bail bond which had been granted in the State of Ga. or the capturing a fugitive who has escaped from bail in Ga. for gratuity, benefit or compensation.
Bail Recovery agents have to take continuing education in order to stay up to date on all the new laws regarding jumpers and warrants. Every January they have to take a class which is monitored by the Bonding Department which is responsible for that jurisdiction.
Now, on to the fun.
Once the jumper fails to make his first appearance to plea his case then the judge forfeits the bond and orders an execution hearing of not sooner than 120 days from that day. Notice of the execution hearing shall be served within 10 days from the failure to appear date. It can be served either by mail or overnight delivery to the bonding company. Once the notice is mailed the clock starts ticking. Time to start looking for the jumper before the bonding company loses all of the bond money. No bonding agency wants to lose thousands of dollars because the defendant doesn't want to go to court.
As a hunter when I went into a county other than my own, I had to notify the local law enforcement agency that I was there and who I was looking for. I could inform that jurisdiction any way I deemed fit. If an out of state hunter came into town, they had to produce the warrant for "failure to appear" from the city, county or state court which had produced it. They also had to produce the correction documentation showing they were licensed hunters. If the out of state agent doesn't have to be licensed in his home state he must contact a Ga. hunter and they have to go with the out of state hunter to do the pickup.
Any hunter who fails to register with local enforcement or who is otherwise unqualified – and still tries to do a pick up or succeeds in doing the pickup will be charged with a misdemeanor if he is convicted of the first charge. If unqualified hunters does it again and gets charged he is charged with a felony. He can be sentenced to prison for 1-5 years.
If the bondsman hires an unqualified hunter he also can be charged with a misdemeanor on the first offense Ga. Code 17-6-56 and 17-6-57.
Bounty hunter must be at least 25 years old, must be a U.S. citizen, must obtain a gun permit, and must notify the local police of the intended arrest. Bondsmen must register with the sheriff of the county in which the bondsman is a resident all bail recovery agents that he employs. A bounty hunter must carry identification cards issued by bondsman, which describe the bounty hunter's physical appearance, and contains the bondsman's signature. Bounty hunter cannot wear clothing or carry badges suggesting that he is a public employee. An out of state recovery agent must be able to prove that he is licensed in his home state, or hire a Georgia bounty hunter if there is no licensing law in his home state. Ga. Code § 17-6-56 through 17-6-58.
The second conviction will be considered a felony and the bonding agent can also be sentenced to 1-5 years as well as a fine of up to 10,000.
No hunter can carry or display any uniform, badge, shield card or other items with any printing which indicates or eludes the that agent belonging to any state of or federal government. In other words, a hunter can not in any way elude, state of pretend he is with law enforcement. He isn't! If he does the hunter can be charged and convicted of (you guessed it a felony) and can go directly to jail for 1-5 years plus be charged 10,000 in fines.
Now for the part you all have been waiting for. As Bail Recovery Agents we have to be very careful when we go onto a property which may or may not have the jumper. We have to watch what we say, how we say it and no we can't kick in doors. If we do cause any damage to the location well guess what- we can be charged with destruction of property. If we try to pick up the wrong person we can be charged with assault and if we draw our weapon we can be charged with assault with a deadly weapon. Personally I don't want to become the hunted and I really don't want fork over money in fines.
In the State of Ga. as hunters we can carry a weapon however, we have to have a CWP better known as a concealed weapons permit. We have to abide by the laws of that permit. We cannot carry it into banks, schools etc. We are run through a background check by every known law enforcement agency out there. So nothing is hidden. If a hunter has a felony record, had been admitted to a facility for suicide attempts, has been charged and convicted of spousal or child abuse, or has been other than honorable discharged from the military no permit will be issued. They can still hunt, they just can't carry a firearm.
If we cause damage to the property or the person we are liable for all costs involved for repairs or medical. We also stand to be charged with civil suits.
So armed with my knowledge, my warrant and my partners we start looking for what is known as cold cases. These are my favorite. They are cases which are getting to the end of the clock. The bonding company is getting ready to sign the check over to the courts.
One of the first cases I worked involved a young man from Jamaica. He should have gone down as one of the stupid jumpers. He should have been given that sign.
Anyway, we got the jacket (case file) and went to work. He had been arrested on a drunk driving charge in downtown Atlanta. His sister had made her way to the bonding agency next door to the jail (how convenient) and signed his bond. When he retrieved his belongings from the desk sergeant he was told he was free to go.
Which is exactly what he did. He went and was not heard from again. That is until the night my partners picked him back up getting out of the car at his sister's apartment. But I digress.
I got the jacket and we had less the five days to find our boy. So I went to work. I started with his sister who had signed his bond. She pretended that she had no idea where he was or if he was coming back. She played her part very well. And I played mine. I pretended that I believed her. I went to the next name on the list his employer again, they had no clue. I called friends and foe alike. It appeared he had fallen off the face of the earth. But I knew better. They love to hide in plain sight. They think they become invisible. Right!
For three days I called everyone on his list and for those three days I continued to try and find the sister's address. She had left that information off the paperwork. Silly Girl.
Anyway, through my ability and cunning and power of persuasion I finally found an address for the sister.
I called my partners and told them I had it. I also told them that he would show up at her residence. That was part of his comfort zone. He would show. So being the ever vigilant and believing partners they were they went to the apartment complex and waited. And waited and waited and waited. I am sure they were calling me everything they could think of.
Anyway, about 11:00pm my partners saw a car which resembled the jumper's – the tag number matched. So it was safe to assume that if was our man.
My partners waited for him to park and get out. They slowly vacated the stakeout car and walked very carefully up to our quarry.
They called out his name and he stopped and turned around to see who was calling him. One of my partners had his cuffs already out and the other one was ready to draw his weapon if needed.
Once it was established that it was indeed our boy, he was shown the failure to appear warrant, cuffed and stuffed into the back of the SUV.
On the way back to downtown Atlanta jail he was asked why he had not shown up in court. Are you ready for this answer? Come on now try to guess, don't peek.
Okay I will tell you.
His answer was "When the man told me I could go, that I was done, I thought it was finished. I didn't know I was supposed to go to court." That my friends- was a direct quote.
When my partners called me and told me they had our boy and what he had said, my response was "Here's your sign."
The beauty of being a hunter is we know the criminal is not that bright even though they pretend to be. We know what they are thinking, what they are doing and where they will go before they do. They always go to that comfort zone. They always go back to that place they feel safe. They always contact those who are on the reference list which is in the jacket. They always slip up. It just takes a lot of patience, time and waiting.
Next Monday I will talk about Florida and if a hunter can cross over from another state to pick up a jumper from Ga.
Correctional Officer Donna Fitzgerald, 51

Florida Department of Corrections
On June 25, 2008, Officer Fitzgerald, a 13 year DOC veteran, was ambushed and sexually assaulted by an inmate at the Tomoka Correctional Institution. The officer was killed during the brutal assault.
Police Officer Nicholas Heine, 30

Pueblo Colorado Police Department
On Saturday June 21, 2008, Officer Heine was engaged in a foot pursuit after breaking up several bar fights when he suddenly collapsed. Efforts by fellow officers to revive Heine were not successful. He died a short time later at the hospital. It's believed he had suffered a heart attack.
The officer was a nine year veteran, and leaves behind a wife and two daughters. Officer Heine's mother is also employed by the Pueblo PD.
Correctional Officer Jose Rivera, 22
Federal Bureau of Prisons, U.S. Department of Justice
On June 20, 2008, Officer Rivera was conducting the 4:00pm count at the U.S. Penitentiary in Atwater, California when he was stabbed to death by two inmates. The prisoners used homemade knives (shanks) to commit the horrific murder. Rivera had only worked for the BOP for approximately ten months.
Officer Rivera was also a veteran of the U.S. Navy.
Rifling is the term used to describe the twisting pattern of grooves and lands (raised areas between grooves). Lands and grooves are tooled into steel gun barrels to cause the projectiles (bullets) to spin. The spinning movement stabilizes the bullet, causing it to travel straight and true, sort of like how a football spins when thrown by a quarterback.
Gun barrels start out as solid pieces of steel.The center hole is cut using a drill. Then, the rifling pattern is tooled to the inside of the barrel.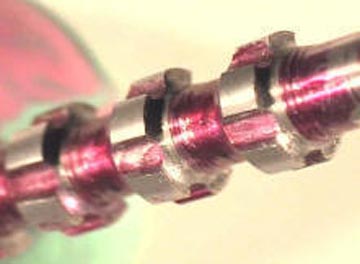 A tool, such as the one pictured above, is forced inside a newly drilled gun barrel, cutting lands and grooves as it passes through.
When a barrel is manufactured, marks caused by contact with machinery are left in the steel. These blemishes are different on each barrel, causing individual guns to have distinguishable fingerprints. No two set of markings are the same. Also, normal use of a firearm can cause distinctive markings inside the barrel.
Bullets are made from soft metal, such as lead. As they pass through a rifled barrel, the imprint of lands, grooves, and tooling blemishes are permanently stamped into the projectile.
Investigators use each of these markings to match bullets with the gun that fired them.
Spiral pattern of lands and grooves
Bullet with impressed image of lands and grooves in its surface
Gun stuff for fun…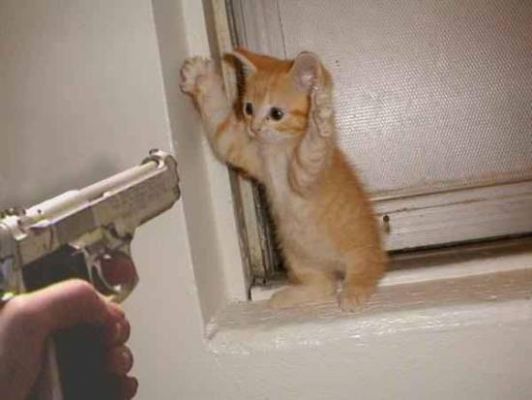 Caught by surprise
Better prepared

Don't monkey with me.
No way I'm hunting with Dick Cheney.
I told you I'm sick of canned food. I want real fish, and I want it NOW!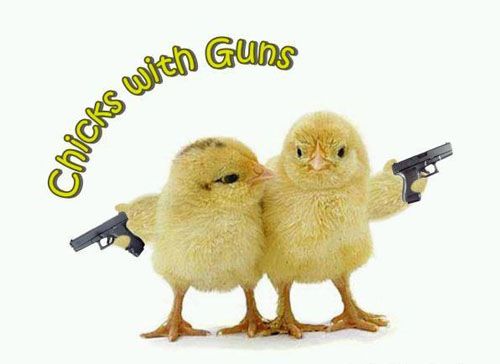 For those of you who couldn't make it, Forensic University hosted a day at the gun range for members of Sisters in Crime.
The new Bond.
* BREAKING NEWS *
POLICE PROCEDURE AND INVESTIGATION has been nominated for a prestigious Macavity Award! I'm truly thrilled and humbled to be included with such a star-studded group of authors. What an incredible honor. Thanks so much!

Applying for the job of police officer is a bit different than trying to land any other job. In fact, the process a police applicant must undergo can be quite challenging. To qualify for one of these coveted positions (there's often a several month waiting list), an applicant must be a U.S. citizen, have a high school diploma or equivalent (many departments now require all applicants to have an associates degree or higher), and be at least 21 years old on their hire date. And there's normally a height and weight requirement.
There are several steps in the hiring process (this varies in every area), beginning with a written application. Those who do not satisfactorily complete the written application will not be considered for a position.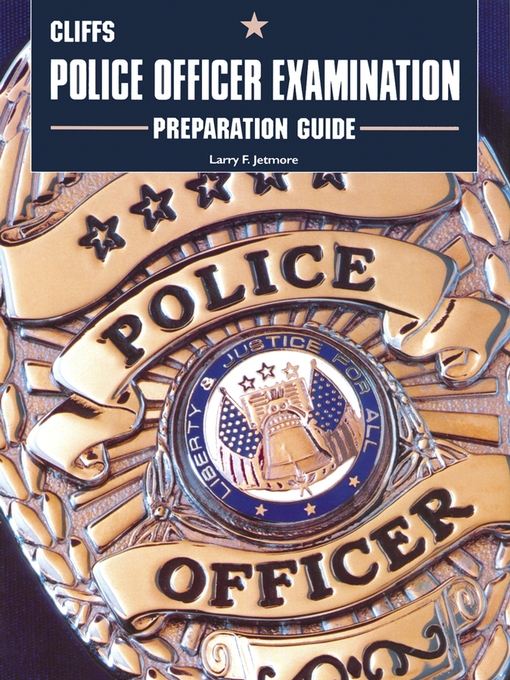 The next step is usually a written test consisting of :
1) Written communication skills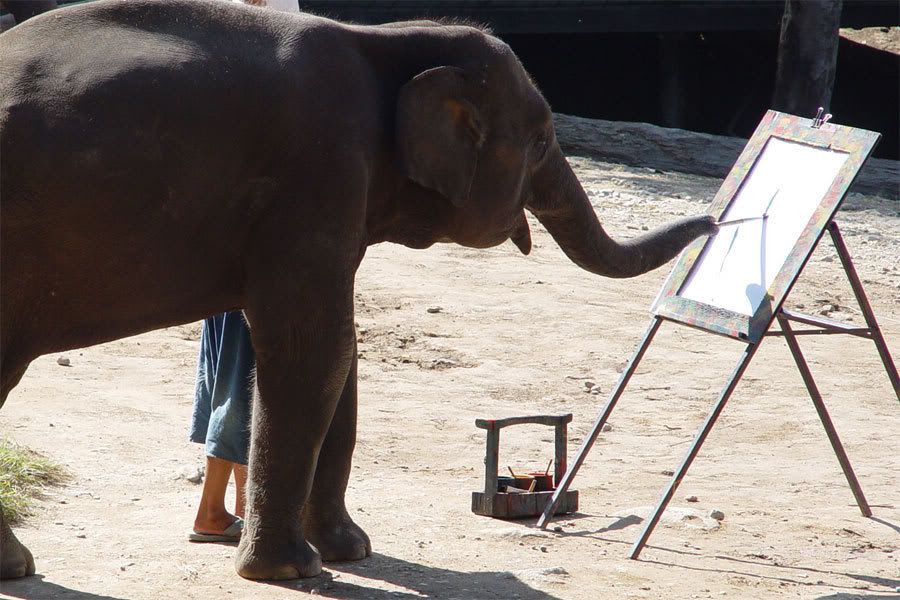 1) Ability to remember intricate details
3) Spelling
4) Effective report writing
5) Use of judgment and logic
Bringing a knife to a gunfight – poor judgment.
6) Grammar
"You teach a child to read, and he or her will be able to pass a literacy test."
7) Following written directions
8. Neatness
9) Listening skills
Those applicants who pass the written portion of the exam will be asked to participate in the next step of the process, the physical fitness assessment. The PT assessment consists of a 1.5 mile run, push ups, and sit ups. Some departments also require the successful completion of agility testing.
Agility testing
Push ups
The next stage of the pre-employment screening is an oral exam/questioning period where applicants meet with a panel consisting of ranking officers from the department.
Sometimes, members of the community are asked to participate as panel members. Candidates are asked questions, such as their reasons for wanting to become a police officer. They're also given various scenarios and are asked what they would do if they found themselves in those situations.
Candidates who've made it to this stage in the process are required to submit to a background examination. Sometimes even a polygraph examination is administered. The focus of this portion of the procedure is on past and current drug use and abuse, criminal activity, past employment problems, honesty, and discrepancies in other portions of the application process.
Final contenders must undergo psychological testing to determine if they're mentally fit for a career in law enforcement.
Needless to say, anyone who makes it through this grueling process has earned the job. Little do they know, the worst is yet to come. Police academy training is no picnic!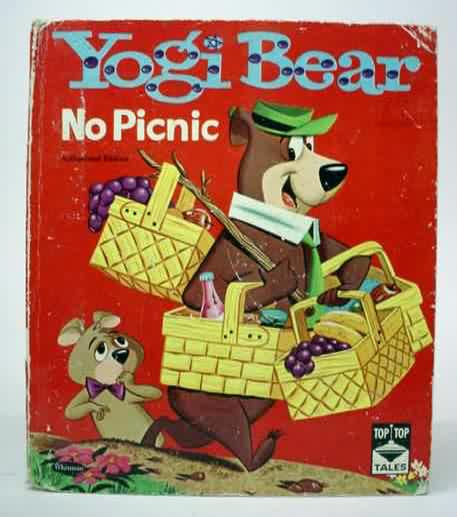 * * *
* BREAKING NEWS *
POLICE PROCEDURE AND INVESTIGATION has been nominated for a prestigious Macavity Award! I'm truly thrilled and humbled to be included with such a star-studded group of authors. What an incredible honor. Thanks so much!

Here' the list of this year's Macavity Award nominees:
Best Mystery Novel:
Reed Farrel Coleman: Soul Patch (Bleak House)
John Connolly: The Unquiet (Hodder & Stoughton*/Atria)
David Corbett: Blood of Paradise (Ballantine Mortalis)
Deborah Crombie: Water Like a Stone (Morrow)
Laura Lippman: What the Dead Know (Morrow)
Best First Mystery:
Tana French: In the Woods (Hodder & Stoughton*/Viking)
Joe Hill: Heart-Shaped Box (William Morrow)
Lisa Lutz: The Spellman Files (Simon & Schuster)
Tim Maleeny: Stealing the Dragon (Midnight Ink)
Matt Beynon Rees: The Collaborator of Bethlehem (Soho)
Best Mystery Short Story:
Donna Andrews: "A Rat's Tale" (EQMM, Sep-Oct 2007)
Rhys Bowen: "Please Watch Your Step" (The Strand Magazine, Spring 2007)
Jon L. Breen: "The Missing Elevator Puzzle" (EQMM, Feb 2007)
Beverle Graves Myers: "Brimstone P.I." (AHMM, May 2007)
Gillian Roberts: "The Old Wife's Tale" (EQMM, Mar-Apr 2007)
Best Mystery Non-Fiction:
Barry Forshaw: Rough Guide to Crime Fiction (Penguin Rough Guides)
Jean Gould O'Connell: Chester Gould: A Daughter's Biography of the Creator of Dick Tracy (McFarland & Company)
Jon Lellenberg, Daniel Stashower & Charles Foley, editors: Arthur Conan Doyle: A Life in Letters (HarperPress*/Penguin)
Lee Lofland: Police Procedure and Investigation: A Guide for Writers (Howdunit Series, Writers Digest Books)
Roger Sobin, editor/compiler: The Essential Mystery Lists: For Readers, Collectors, and Librarians (Poisoned Pen Press)
Sue Feder Memorial Historical Mystery:
Rhys Bowen: Her Royal Spyness (Penguin)
Ariana Franklin: Mistress of the Art of Death (Putnam)
Jason Goodwin: The Snake Stone (Faber & Faber*/ Farrar, Straus and Giroux)
Clare Langley-Hawthorne: Consequences of Sin (Viking*/Penguin)
Joyce Carol Oates: The Gravedigger's Daughter (HarperCollins Ecco)
*UK publisher (first edition)
Congratulations to each of you!
Have you ever wondered about the costs associated with criminal investigations? Well, you'd better believe the suits keep tabs of where public dollars are going. Here's a rundown of expenses associated with materials used in crime-solving.
Crime scene tape (actually it's called barrier tape)
$15.50 per roll
Crime scene sketch kit
$109.00
Crime scene DNA kit
$20.00
Locater cones
$27.95 for 8
Photo evidence and crime scene markers
$350.00
Arson investigation kit

$440.00
Laser trajectory finder (determines the path of bullets)
$340.00
Traffic investigation kit
$600.00
Alternate light sources
$10.00 – $6000.00
Fingerprinting Kit
$300.00
Wet Powder Processing Kit (for processing prints on adhesives, such as duct tape).
$75.00
Red evidence tape with writing line
$12.00
Body Bag
$244.00 for a package of 24
Tyvek shoe covers
$12.00 for 10 pair
Tyvek coveralls
$11.75 per pair
Paper evidence bags
$21.00 for 100 bags
Chain of custody labels
$10.00 per 100 labels
Blood spatter kit
$200.00
4 Cell Maglite – $32.00
Belt holder - $8.00
Handy guide to police procedure and investigation
$19.95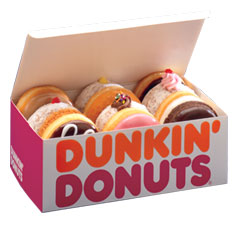 Cop fuel
Priceless…
Basics of Hunting
As I promised now I am getting down to the meat of the matter the basics of hunting. Most common folk have this misguided notion that a bounty hunter goes in "with guns blazing." While on the silver screen it makes for good viewing that is not how it works.
True Bounty Hunting is a series of boring phone calls to various folks listed on the personal information sheet which should have been filled out when the bond was posted. It consists of sitting for long hours in stakeouts waiting for the jumper to show up at any number of his local haunts.
By the time the hunter gets the jacket, aka the folder of the jumper, the jacket has grown cold. In other words, the accused has not shown up for his hearing, a warrant has been issued for failure to appear and the bonding company has exhausted all means of looking. It is time for the hunter to work his magic.
When I hunted I loved cold cases. They were a challenge in more ways than one. Because of my background in criminal justice and my ability to understand the basic human nature of man cold cases were right up my alley.
Human beings are creatures of habit, even those on the run. They can't help doing some of the things they do. Case in point, when a jumper jumps the first thing he does is return to his comfort zone. We all have one. That zone is about a 35 mile radius. It consists of places and people we know and trust. A place we feel safe to return to. Most of the time in that zone there are people who will cover for us. Those people include of course mom, best friend, wife, ex-wife, girlfriend, ex-girlfriend, grandmother. Maybe dad.
Once I determine the comfort zone. I go to work. I start the call to the most obvious first. The one who signed and put up the 10% for the bond. That is usually a best friend.
When I make the call it is a friendly call like I am just looking for my jumper not as a hunter but as a friend. If the person I am talking to plays stupid, I remain friendly. I don't want to spook him. I also don't want him calling the others on the list before I get to them. Next on my calling list is mom. Again I am very friendly. I might or might not tell her who I am and why I am looking for her child. I want it to remain friendly.
The conversation might go something like this:
"Mrs. Jones?"
"Yes."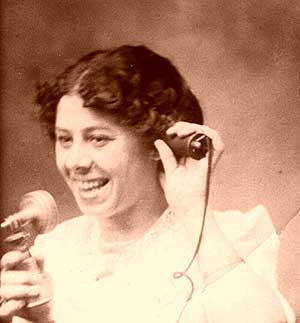 "Hi, how are you today?"
"Fine."
"Mrs. Jones, my name is ____, I am a friend of your son/daughter. I just got back into town and was trying to get back in touch with _____. Do you know how I can reach them? Do they live with you or have they already moved?"
This keeps mom from just giving me a yes or no question. She has to talk to me. This is very important in the hunt. Yes or no questions will not help you. The hunter is looking for information. So to continue.
"Well, ________, moved out a while back. He/she moved to ______."
"Really, well do you know if he/she is still working at _______ or did they finally get the job over at _____?"
Again it is not a yes or no question. Mom's answer will give me more information.
I will keep asking questions until I feel that mom has told me either all she knows or all she is going to give up with this conversation. I will get hard core later.
Before I hang up I ask her what phone number I can reach_______ at. Again she is forced to give me an answer. Sometimes it works and sometimes it doesn't. We save the hard core for another day. I politely close the conversation.
My next call is to the wife/ex- wife/girlfriend/ex-girlfriend. Again it is a polite conversation. I don't want to appear threatening yet. They will become my best friend, especially if my jumper has pissed them off. There is an old adage "Hell hath no fury like a woman scorned." Let me tell you, I have heard stories. That adage is true. They will roll in a heartbeat. But the hunter has to know when and how to push those buttons. Their first instinct is to protect.
By the time the first phone call is finished I have really gleaned a lot of information. Information which I use when I continue down the list. It becomes like the thread of a tapestry which is becoming unraveled.
These phone calls could continue for several days and with each day I become more aggressive. My favorite line to the person how has gone on the bond when I am not getting co-operation is this:
"My judge doesn't care what body he gets in front of him, he just wants a body – so be prepared I am on my way to pick you up." Funny how that works. They don't know they can be charged with aiding and abetting. More times than not they roll very fast. If they don't know where my jumper is – they know who does. It is like a dam bursting they can't talk fast enough. The words tumble out.
Once I get a place on my jumper who thinks he is hiding in plain sight, I usually sit for hours. I have to wait for him to make an appearance.
I worked with two partners. They both were former Marines and both had been cops in NY. They were not nonsense. One had a Hispanic background and the other was Afro-American. I am white, five feet nothing, and weigh maybe 115.
Anyway, we had a jumper I had worked on for several weeks. Time was running out. Our bonding company was going to pay the entire bond to the courts. I was ready to shoot him myself when we found him.
I had begged my partners to let me go into a bad part of town to set up a sting in a drug deal we knew he was dealing in a certain area. They refused. Silly men. After much bickering back and forth and much foot stomping on my part, I pulled myself together and went to plan "B".
There was one number we had not yet called. That call was to my jumper's girlfriend's ex-husband. I have to tell you. We hit the mother lode.
The conversation went something like this.
"Pete?"
"Yes"
"My name is Yvonne, I need your help." See how nicely I asked?
"What do you need" He is really leery.
"Well, I am looking for Jane (the girlfriend) do you happen to know where I can find her or (George)"
Well, it was like the Fourth of July.
"That bitch, he said, she is in jail."
"Really and why is that?"
"She got caught selling to an undercover cop and she had my eldest son with her. They both are in Henry County jail and that idiot goes to see her every Tuesday."
See how he just volunteered that wonderful information.
Well, as I smiled gleefully, I thanked him and hung up the phone. I called my partners and told them I would be calling Henry County to see if she was there and if our jumper did indeed visit her on Tues. at 2:00. Sure enough he was on the visitors log and sure enough she was still there.
What could be sweeter. My partners, took off to South Atlanta, to Henry County. They parked the SUV in the lot and waited. The waited until 1:45 no jumper, 1:55 no jumper – they were not happy.
But all was not lost, they were getting ready to leave, they had decided to leave in the next five minutes when much to their surprise who should appear.
It was 2:15 and a male was approaching the steps leading to the jail. He appeared not to be in much of a hurry. My partners causally got out of the SUV and walked slowly up behind him as he continued up the steps. Right before he turned the knob to enter the building they identified themselves and cuffed him.
They told him they had someone who really wanted to talk to him. So they promptly called me.
That was a good day. It was a day which paid off a lot of hard work, which at times seemed hopeless.
No guns were drawn, no one was hurt. But we got our man. He went willingly he knew he was caught.
There is an adage which I was raised on, "When one draws a gun one must be prepared to use it – if one doesn't one will be dead."
I know how to handle a gun I am licensed to carry. I use a Smith and Wesson Semi with a clip that holds 12 shots with one in the chamber. I carry a back up a 380 Kel -Tec I was trained very well. However, I never want to have to use it. I never hunt alone. It is too dangerous.
Next Week- I begin the series on the hunting laws in the different states.
Florida's Most Wanted
Eric John Ritter
Christopher J. Reichstein
Luis Perez Amezcua