Our Weekend Road Trip this week takes us to Little Rock, Arkansas for a tour of the William J. Clinton Presidential Library. The 150,000 square foot structure cost approximately $165 million to construct, and it sits within the boundaries of a 28 acre park. The Clinton Library is the second largest Presidential Library. The Ronald Reagan Library is the largest.
William J. Clinton Presidential Library
Bill Clinton and Hillary Rodham – the college years
Gibson Lucille-style guitar signed by B.B. King, Jonh Fogerty, Eric Clapton, Gloria Estephan, Sheryl Crow, Melissa Etheridge, John Mellencamp, Garth Brooks, and Lenny Kravitz.
Okay, I noticed this guitar is hanging upside down. I don't know why. Anybody?
Actual presidential limousine. It's heavily armored.
Ballet shoes worn by a young Hillary Rodham.
* Monday's guest blogger is Dr. Denene Lofland. Her topic is Microscopic Murder. Stop by and bring all your questions about the microscopic bugs that kill, and how to make them work in your stories.
Convicted serial killer, Timothy Spencer, the Southside Strangler, appealed his death sentence. He claimed that he was factually innocent, scientists did not adequately perform the DNA testing in his case, and that DNA testing is a flawed science. Were Spencer's claims wrong? Is DNA testing flawed?
Spencer also challenged the facility that performed the DNA testing. The court found no flaws in their procedures.
* Remember, Spencer was the first person in the U.S. sentenced to death based on DNA evidence. This was a landmark case in the United States.
The following paragraphs are excerpts from Timothy W. Spencer's appeal to The United States Court of Appeals, 4th Circuit. His argument – The DNA testing was flawed.
*WARNING – Parts of the text are quite graphic*
5 F.3d 758
Timothy W. SPENCER, Petitioner-Appellant,
v.
Edward W. MURRAY, Director, Respondent-Appellee.
No. 92-4006.
United States Court of Appeals,
Fourth Circuit.
Argued Oct. 28, 1992.
Decided Sept. 16, 1993.
J. Lloyd Snook, III, Snook & Haughey, Charlottesville, VA, argued (William T. Linka, Boatwright & Linka, Richmond, VA, on brief), for petitioner-appellant.
Donald Richard Curry, Sr. Asst. Atty. Gen., Richmond, VA (Mary Sue Terry, Atty. Gen. of Virginia, on brief), for respondent-appellee.
Before WIDENER, PHILLIPS, and WILLIAMS, Circuit Judges.
OPINION
WIDENER, Circuit Judge:
1
Timothy Wilson Spencer attacks a Virginia state court judgment sentencing him to death for the murder of Debbie Dudley Davis. We affirm.
2
* The gruesome details of the murder of Debbie Davis can be found in the Supreme Court of Virginia's opinion on direct review, Spencer v. Commonwealth, 238 Va. 295, 384 S.E.2d 785 (1989), cert. denied, 493 U.S. 1093, 110 S.Ct. 1171, 107 L.Ed.2d 1073 (1990). For our purposes, a brief recitation will suffice. Miss Davis was murdered sometime between 9:00 p.m. on September 18, 1987 and 9:30 a.m. on September 19, 1987. The victim's body was found on her bed by officers of the Richmond Bureau of Police. She had been strangled by the use of a sock and vacuum cleaner hose, which had been assembled into what the Virginia Court called a ligature and ratchet-type device. The medical examiner determined that the ligature had been twisted two or three times, and the cause of death was ligature strangulation. The pressure exerted was so great that, in addition to cutting into Miss Davis's neck muscles, larynx, and voice box, it had caused blood congestion in her head and a hemorrhage in one of her eyes. In addition her nose and mouth were bruised. Miss Davis's hands were bound by the use of shoestrings, which were attached to the ligature device. 384 S.E.2d at 789.
3
Semen stains were found on the victim's bedclothes. The presence of spermatozoa also was found when rectal and vaginal swabs of the victim were taken. In addition, when the victim's pubic hair was combed, two hairs were recovered that did not belong to the victim. 384 S.E.2d at 789. The two hairs later were determined through forensic analysis to be "consistent with" Spencer's underarm hair. 384 S.E.2d at 789. Further forensic analysis was completed on the semen stains on the victim's bedclothes. The analysis revealed that the stains had been deposited by a secretor whose blood characteristics matched a group comprised of approximately thirteen percent of the population. Spencer's blood and saliva samples revealed that he is a member of that group. 384 S.E.2d at 789.
4
Next, a sample of Spencer's blood and the semen collected from the bedclothes were subjected to DNA analysis. The results of the DNA analysis, performed by Lifecodes Corporation, a private laboratory, established that the DNA molecules extracted from Spencer's blood matched the DNA molecules extracted from the semen stains. Spencer is a black male, and the evidence adduced at trial showed that the statistical likelihood of finding duplication of Spencer's particular DNA pattern in the population of members of the black race who live in North America is one in 705,000,000 (seven hundred five million). In addition, the evidence also showed that the number of black males living in North America was approximately 10,000,000 (ten million). 384 S.E.2d at 790.
5
On September 22, 1988 a Richmond jury found Spencer guilty of rape, burglary, and capital murder. The jury unanimously fixed Spencer's punishment at death, which was affirmed on direct appeal. Spencer then filed a petition for habeas corpus with the state trial court, which was dismissed. He appealed to the Virginia Supreme Court, but because his appeal was filed one day out of time, the Virginia Supreme Court refused the petition. Spencer then filed a petition for a writ of habeas corpus with the United States District Court for the Eastern District of Virginia. The district court denied his petition. Spencer v. Murray, No. 3:91CV00391 (E.D.Va. April 30, 1992).
6
On appeal, Spencer raises essentially five issues1: (1) the DNA evidence in this case is unreliable; (2) defense counsel was denied an opportunity to adequately defend against the DNA evidence because the trial court denied a discovery request for Lifecodes' worknotes and memoranda, the trial court refused to provide funds for an expert defense witness,2 and the prosecution did not reveal evidence of problems with Lifecodes' testing methods; (3) the trial court should not have admitted the DNA evidence; (4) the prosecution improperly struck Miss Chrita Shelton from the jury for racially-motivated reasons as prohibited by Batson v. Kentucky, 476 U.S. 79, 106 S.Ct. 1712, 90 L.Ed.2d 69 (1986); and (5) the future dangerousness aggravating factor in Virginia's capital sentencing scheme is unconstitutionally vague.
* Spencer's major attack was on the DNA testing. I've inserted photos of the same type DNA testing  (electrophoresis, or gel testing) that Spencer claimed was faulty.  These photos are mine and were not part of the appeal.
Spencer's argument boils down to an assertion that the DNA results were flawed and he was wrongly convicted. This is a claim of factual innocence. The errors he points to–potential errors in the results of the DNA test–are errors of fact, not law.
…Specifically, Spencer points to a laundry list of problems that might have occurred with his DNA test, including:
1Bandshifting that may have occurred because the tests were not run on same gel;
DNA testing by electrophoresis (gel testing)
Weighing the agar gel.
Mixing the gel with water.
Gel in chamber.
Injecting DNA into the gel.
Attaching electrodes to the chamber.
Introducing electric current to the gel.
Completed gel is placed onto an illuminator for viewing.
 Gel on illuminator.
*My thanks to Dr. Stephanie Smith for allowing me to hang out in her lab to take the above photos.
Completed gel showing DNA bands
DNA bands
Spencer's claims against DNA continue:
2Cross-contamination or bacterial contamination of the samples because Lifecodes' procedures do not guard against these threats;
3Invalidity because of the lack of data on the reliability of DNA testing of degraded forensic samples;
4Incorrect matching because visual inspection, rather than computer calculations, were used to declare a match;
5Invalidity that may have resulted from potentially poor quality control or proficiency standards;
6Impossibility of verifying results because Lifecodes did not record what voltage they applied to gel;
7Inability to know whether Lifecodes properly performed tests because there are no standards for licensure or required tests that labs must complete;
8Improper testimony at trial about the statistical likelihood of finding someone else with same DNA type because of potentially improper application of the product rule;
9Lack of validation studies to prove reliability of DNA testing in forensic setting and of using sperm to DNA type; and
10Possible inaccuracies resulting from Lifecodes' use of certain probes
6Spencer repeatedly has urged, in his brief and at oral argument, that the main reason the DNA evidence in this case was found to be admissible is because it was "too new" to have been criticized, because the criticisms were published after his trial, and because Spencer was, according to counsel, the first person ever convicted with DNA evidence in Virginia
The Virginia State Supreme Court ruled that the DNA testing had been performed properly and denied Spencer's appeal.
Firearms training is one of the most enjoyable parts of the police academy experience. After all, where else can you go to shoot a bunch of ammunition on somebody else's dime? However, it doesn't take long for the new recruits to realize these lessons could very well save their lives at some point during their career.
The week begins in the classroom with the students learning the nomenclature of pistols, revolvers, amd shotguns (Remember, not all academy training is the same). They learn how to field strip (take apart) each weapon, clean it, and to safely re-assamble them. They're taught how to properly lubricate their weapons, and how to check them for damage.
Police officers use pump-type shotguns
After the instructors are certain the rookies are able to safely handle their weapons, they begin teaching how to hold and grip a pistol or revolver. They also show their students the best method of drawing the weapons from a holster.
At this stage, the students get their first experience of drawing their weapons while giving the command "Police, don't move!" They also practice drawing from various positions, such as standing, kneeling, and while lying prone, on the ground.
Shooting from prone position
Students learn to reload while under fire. They also learn to clear their weapons from jammed cartridges and other stoppages. The recruits practice lifting their weapons to eye level; they learn to focus on the weapon's sights while keeping the target in their line of vision, and they practice breathing properly. All this rehearsal time builds the recruit's strength and stamina, an important attribute when they're in a do or die situation.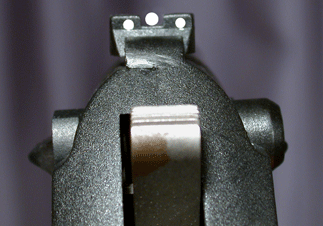 Looking through the pistol sights. It's important to line up the front, single dot sight with the two rear sights (the front dot is the larger white dot in the center).
Soon, the time comes to actually fire their weapons on the range. After dry-firing a few times, they're ready to load live ammunition.
Police recruits are taught to shoot center mass of their target, meaning the center of the largest portion of the target. On a human, that would be the torso area. To help police officers become accustomed to aiming for center mass, silhouette targets are used for practice in the police academy.
(The following excerpt is from the Virginia Minimum Training Standards for Law Enforcement Officers)
Virginia Modified Double Action Course for Semi-Automatic Pistols.
Target – Silhouette (B21, B21x, B27 or Q).
Minimum Qualifying Score – 70%.
(a) Each officer is restricted to the number of magazines carried on duty. Magazines shall be loaded to their full capacity. The range instructor shall determine when magazines will be changed.
(b) Phase 1 – seven yards, hip shooting, crouch position, load magazine, fire one round double action on command (two seconds); or fire two rounds (three seconds), make weapon safe, holster, repeat until six rounds have been fired.
On command, draw and fire two rounds (three seconds), make weapon safe, holster, repeat until six rounds have been fired.
On command, draw and fire 12 rounds in 20 seconds, make weapon safe, and holster.
(c) Phase 2 – 15 yards point shoulder position. On command, draw and fire one round (two seconds); or draw and fire two rounds (three seconds), make weapon safe, holster, repeat until six rounds have been fired.
On command, draw and fire one round (two seconds) or two rounds (three seconds), make weapon safe, holster, repeat until six rounds have been fired.
On command, draw and fire six rounds (12 seconds), make weapon safe, holster.
(d) Phase 3 – 25 yards, kneeling and standing position. On command, assume kneeling position, draw weapon and fire six rounds, then fire six rounds weak hand, standing, barricade position, then fire six rounds strong hand, standing, barricade position, until a total of 18 rounds have been fired (70 seconds).
Before police officers actually hit the streets to begin making arrests, directing traffic, responding to domestic complaints, and investigating murders, they must attend a basic police academy to receive their certifications as police officers. The time spent at a police academy varies. Some basic classes last for as little as twelve weeks while others may last in excess of five or six months. Police academy training is quite similar to military basic training.
Some academies require police officer recruits to live on-site during their training, such as the Virginia State Police Academy pictured above. The VSP academy is a full-service operation, complete with dormatories, an indoor pool, and cafeteria facilities.
Police academy training is similar to basic training
Other locales require their police candidates to attend public police academies, such as the ones taught in some local community colleges. These officer candidates must pay for their own training before they can apply for a job with the prospective police agency.
Basic training consists of many aspects of law-enforcement, but perhaps the most memorable course – the one course that sticks in the minds of all police officers – is Defensive Tactics. Recruits refer to this week in the academy as Hell Week.
During Hell Week recruits learn how to defend themselves from weapon wielding attackers, weapon retention, weapon disarming, handcuffing, baton use, Taser and stun gun use, and the use of pepper spray. They're also required to excercise and run. Lots of excercising and running. And when they've finished all that excercising and running, they run and excercise some more. I probably still have blisters on my feet from the weeks I spent running through the grounds of the VSP academy.
 The training is intense, very painful, and exhausting.
Recruits learn to control and handcuff combative suspects by using pain compliance techniques – wrist locks and joint control. These techniques are based on the techniques used by martial artists. Aikido and Chin-Na are two of the styles of martial arts used to develop these hghly effective techniques.
         Aikido                      Morihei Ueshiba – Aikido founder
Aikido uses the attacker's own force against him.
A wrist turnout applies intense pressure to the joint in the wrist, forcing the suspect off balance.
Proper grasp to begin the wrist turnout (Kotegaeshi Nage) technique. To complete the technique the officer maintains his grasp, rotates the suspect's hand up and to the rear in a counter-clockwise motion while simultaneously stepping back with his (the officer) left leg. The suspect ends up on the floor on his back (see picture below). Any resistance inflcts excrutiating pain in the wrist, elbow, and shoulder.
Combative suspects are normally forced the ground for handcuffing. From this position, a quick turn of the suspect's wrist and arm will force him to roll over on his stomach. Any resistance causes extreme pain and could severely injure the controlled wrist, elbow, and shoulder.
To effectively control the wrist, the elbow must be stationary. From this position, the suspect is easily handcuffed.
This wrist lock can cause intense pain in the wrist, the elbow, and the shoulder. Forward and downward pressure forces the suspect to the ground.
– My thanks to the martial artists in the photos – Chris Fowler and Jesse Allen. Also, a big thanks to Stephani Fowler for snapping the pics. Stephani is currently working on her first book.
* I was a police academy instructor and instructor trainer for many years. I taught basic, advanced, and in-service classes in defensive tactics, officer survival, and firearms. I also trained, certified, and re-certified police academy instructors. Outside the academy, I taught classes in rape-prevention and self defense as well as classes for executive bodyguards. I trained others in stick (tambo) and knife fighting. Throughout my career I maintained the rank of Master Defensive Tactics Intructor/Aikido and Chin-Na Black Belt.
The Graveyard Shift is pleased to introduce a wonderful and talented author, Danny P. Smith. I first met Danny at a writers conference several years ago in California and my cop instincts told me he had what it takes to survive in a writer's world. I was right.
Smith come from a long line of tough Chicago cops and I'm proud to call him my friend, especially since he survived a childhood as a cop's kid. To me, that makes him just a little tougher than most people. My daughter would say that probably made him a little crazy. What can I say? He's a writer. Welcome, Danny.
At first a high school English teacher, Daniel P. Smith left the world of education behind in 2004 to pursue the writing life. Less than five months removed from the classroom and all of 23 years old, Smith teamed with Chicago-based Lake Claremont Press to pen On the Job: Behind the Stars of the Chicago Police Department, a project inspired by his roots in a Chicago Police family. Already an award-winning, nationally published journalist, On the Job is Smith's first book. A 2003 graduate of the University of Illinois at Chicago, Smith resides in Chicago's western suburbs with his wife, Tina, and dog, Dublin. He lives in cyberspace at www.onthejob-smith.blogspot.com.
My mother always told me that my father's downward spiral began when he found the Canzanerri boy. Though my father was on a self-destructive path, which included alcoholism and the eventual abandonment of his family, the Canzanerri case accelerated his demise. A Vietnam vet and Chicago cop, my father had encountered his share of tragedy and struggled at processing such events; the Canzanerri case, I'm told, was the beginning of the end.
In Chicago's Austin neighborhood, a horde of the district's cops assembled to begin their search for the missing infant.
Chicago PD squad car
Searching one home, my father looked under the stairs to find a blanket. Opening the blanket, he discovered the Canzanerri boy—murdered and sliced. From then on, tells my mother, my father changed. He hit the bottle harder. He woke daily from nightmares. And he started talking feverishly about leaving the department so he could make quick cash elsewhere. Perhaps driven by his own mortality as well as the nightmares, my father left us. Though I've seen him in the 25 years since, I can't say I've ever known my father or, to be truthful, wanted to know him. He was cold, unchanged, and guarded.
But what if the Canzanerri boy had never gone missing and my father didn't make that discovery? Would my parents have remained married? Might I have grown up with a father? Doubtful—the selfish tendencies that sparked my parents' separation existed long before the Canzanerri mystery and remain long after. Still, the case does show the ripple effects that police work sends throughout a cop's life.
Chicago PD snipers
In the second half of 2004, I began penning my first book. Inspired by my roots in a Chicago Police Family, I wanted to explore the work-life juxtaposition Chicago's officers face. For much of my life I couldn't reconcile the public perception of officers—one that frequently labeled Chicago's cops as lazy, corrupt, and prejudice—with what I knew from my home life, where four of six uncles were cops and my brother also wore the Chicago Police star. (With the exception of my father, in fact, all those men put their best effort forward each day for their families, communities, and city. To be certain, they each have their faults, but their passion for Chicago Police work and the city could not be mistaken.) I sought to tell human stories against the backdrop of the Chicago Police Department, seeking to examine the personalities behind the star (in Chicago it's a star, not a badge or shield).
Chicago PD officer helping a lost child
Last month, On the Job: Behind the Stars of the Chicago Police Department arrived (https://www.lakeclaremont.com/prod_page.php?isbn=978-1-893121-12-6). Gratefully for this young writer, On the Job has earned glaring reviews for its candor and sincerity as it erases the Hollywood stereotypes as well as what we think we know of cops. The book is far less blood and guts and far more heart and soul. And the truth is that real police work requires more heart and soul than just about any profession in America.
It's easy to be pulled into the silver screen lore or CSI's drama, but real cops often snicker at Hollywood portrayals of their work. Dirty Harry shoots the bad guy and walks into the sunset, right? Well, it doesn't happen that way, particularly for the cops who reflect on their work in the realm of human relations. Police work consumes the soul as much as the days. It's work that alters one's view of the world as well as one's perception of life's fellow travelers. As soon as officers take that oath, they sacrifice a piece of themselves—perhaps their trust or faith or relationships suffering from the job's constant tension. It's a helluva price to pay for a blue-collar civil service job. Any cop who says he or she's the same as the day they entered the job is either: a.) lying or b.) never really been the PO-LICE. The job changes minds and souls and futures. It does not allow for stagnation.
So what tidbits might I be able to offer you, the aspiring crime writer who seeks stories based in truth and accuracy?
True, you'll need to have your facts and jargon down; you'll need to know the culture and organization of any law enforcement unit you discuss; and you'll need to have the details of a given investigation in order. But above all, you'll need to remember that any story, whether about cops or farmers or plumbers, is ultimately about people. And I'd make the argument with vigor and purpose that the cops' stories, in particular, must adhere to this principle without fault because in the job maintains such an overwhelming impact on one's life.
As a high school teacher, I would begin each school year by asking my students the following: Why do we read? They'd come up with a litany of answers that we'd jot on the blackboard—entertainment, knowledge, escape, etc. But in the end, don't we really read for the same reason we watch reality TV? We read to see how people deal with shit, don't we? How do people grieve and live and overcome adversity? How do people build relationships and find a place in society? How do people react to tragedy and triumph? How do people reconcile their actions?
In On the Job: Behind the Stars of the Chicago Police Department such is certainly the task I set out to accomplish: to tell human stories in which we, as readers, get a glimpse into how people deal with life's diverse range of challenges and successes. Early reader response tells me I did my part. I sparked empathy for Chicago's officers and an understanding of their lives by sharing stories anchored in sincerity and heart. I told stories about people.
Chicago officers conduct a pat-down search
Now the challenge is how can you do the same and, at least for today, how can I help you move your own writing ambitions forward?